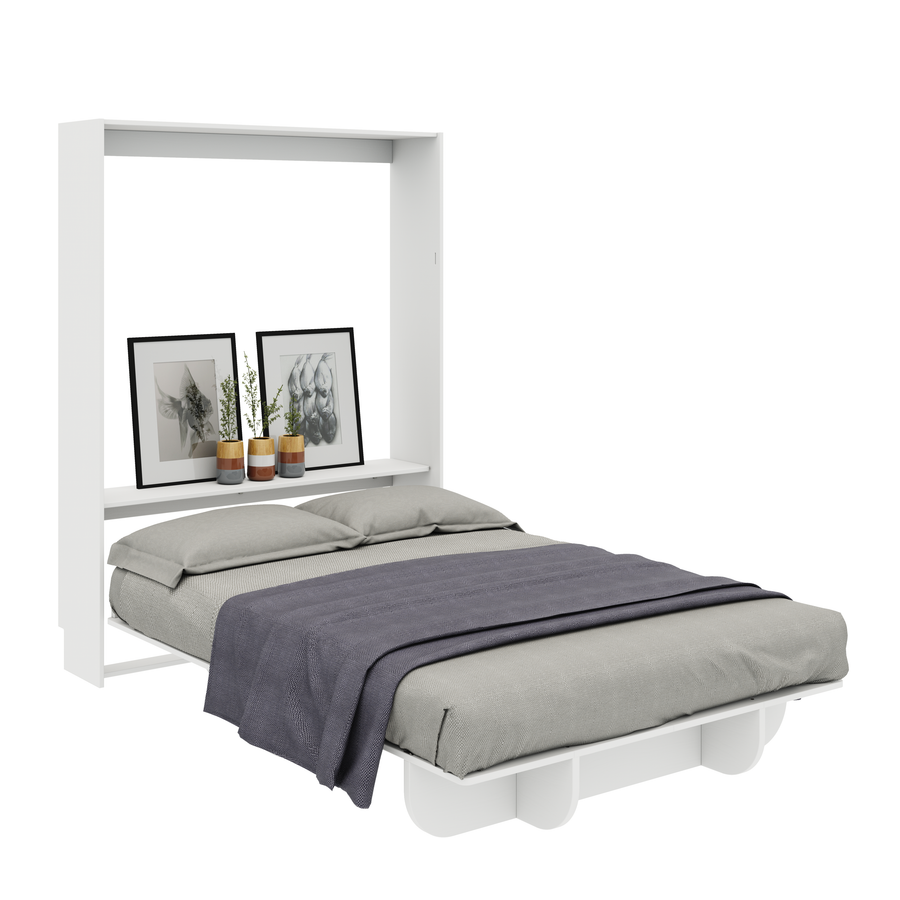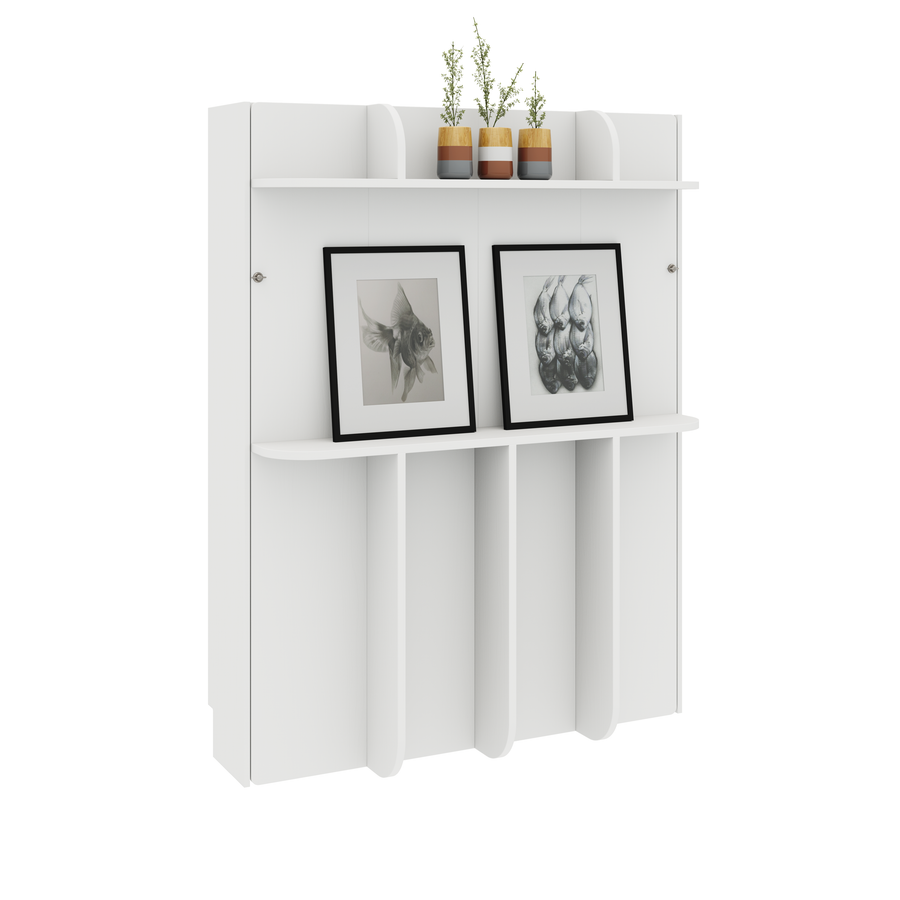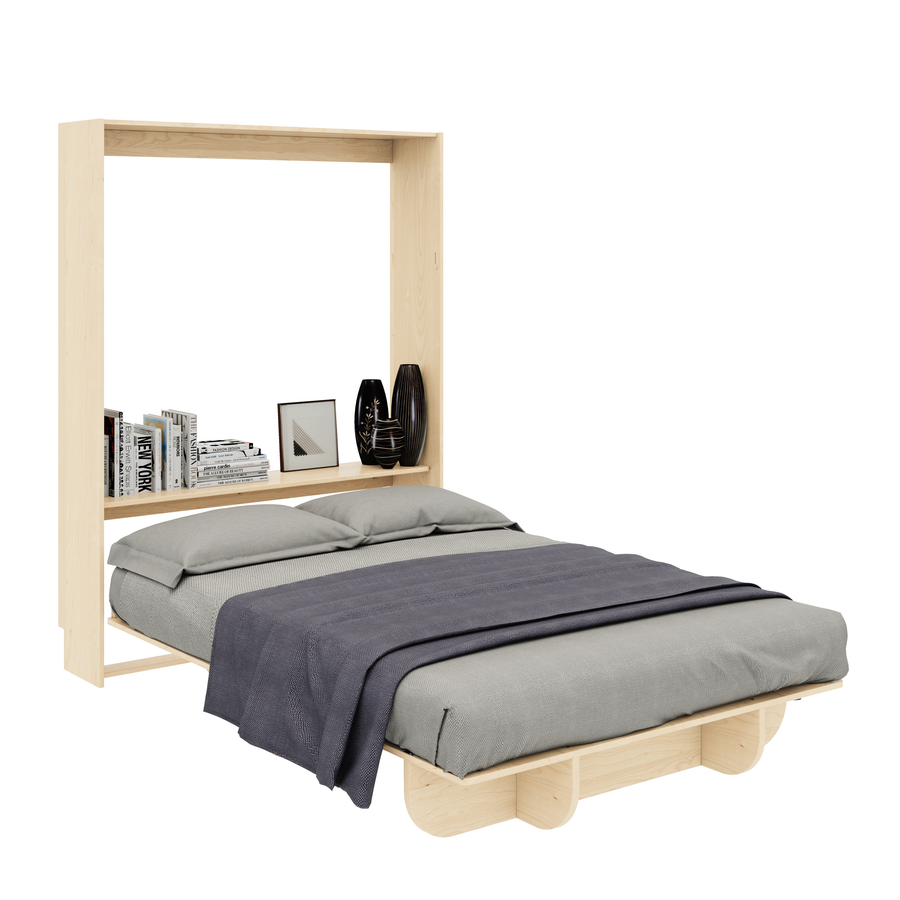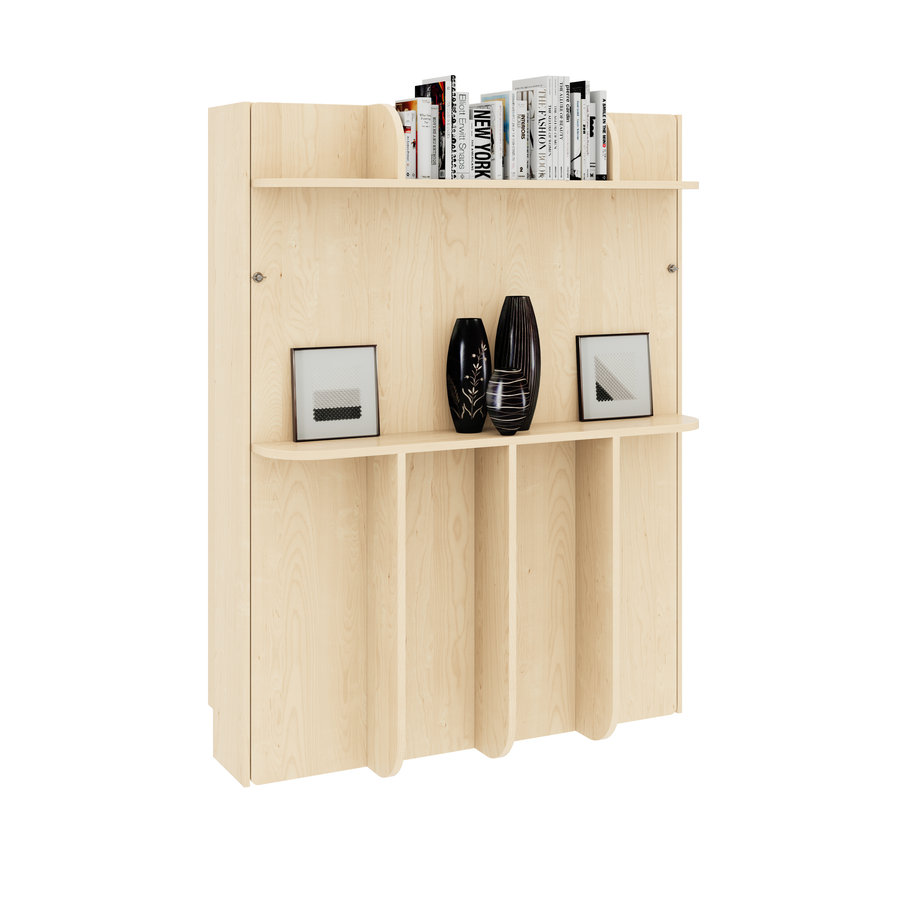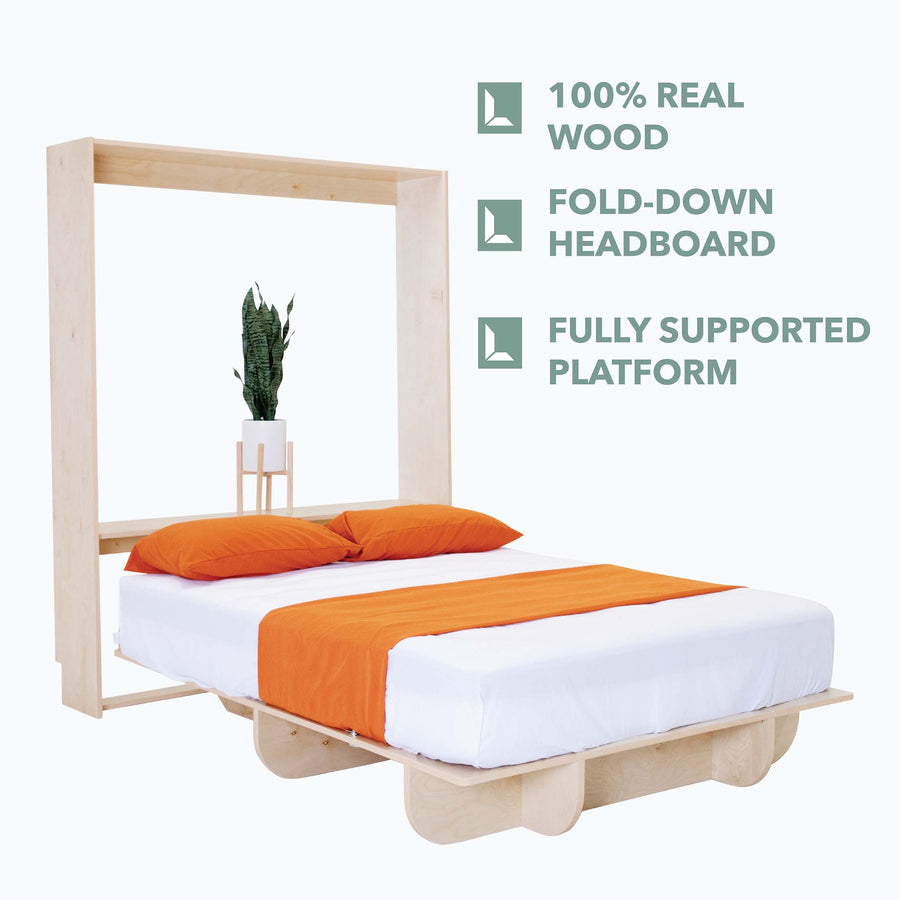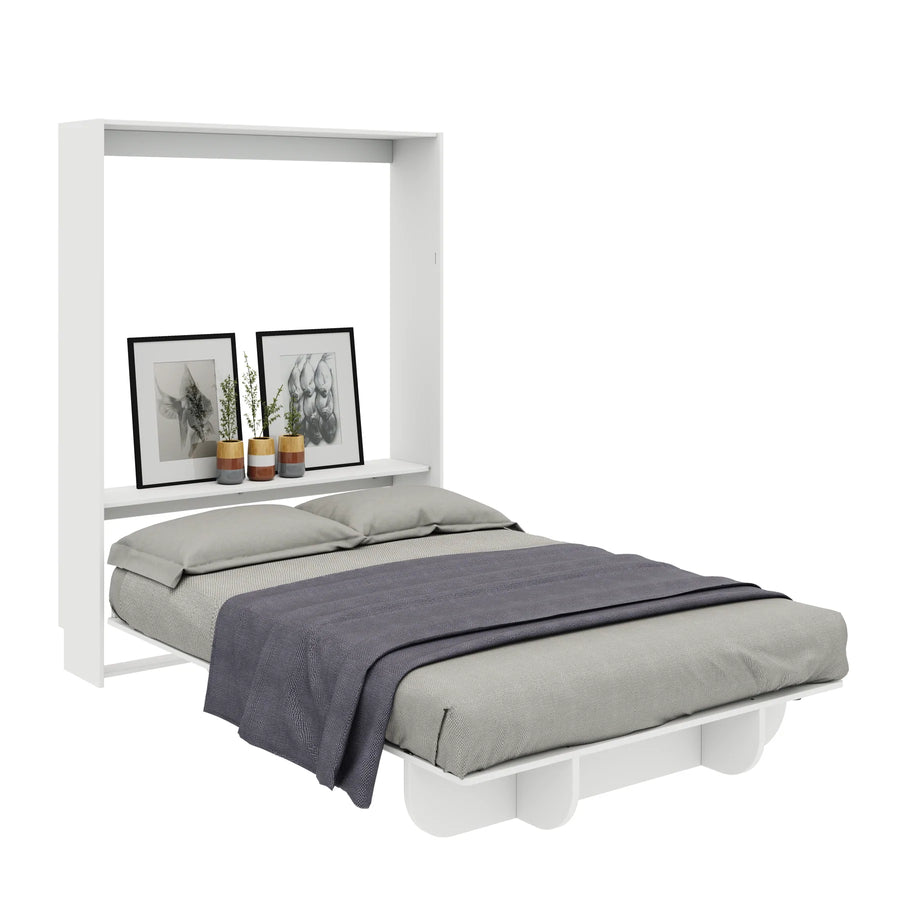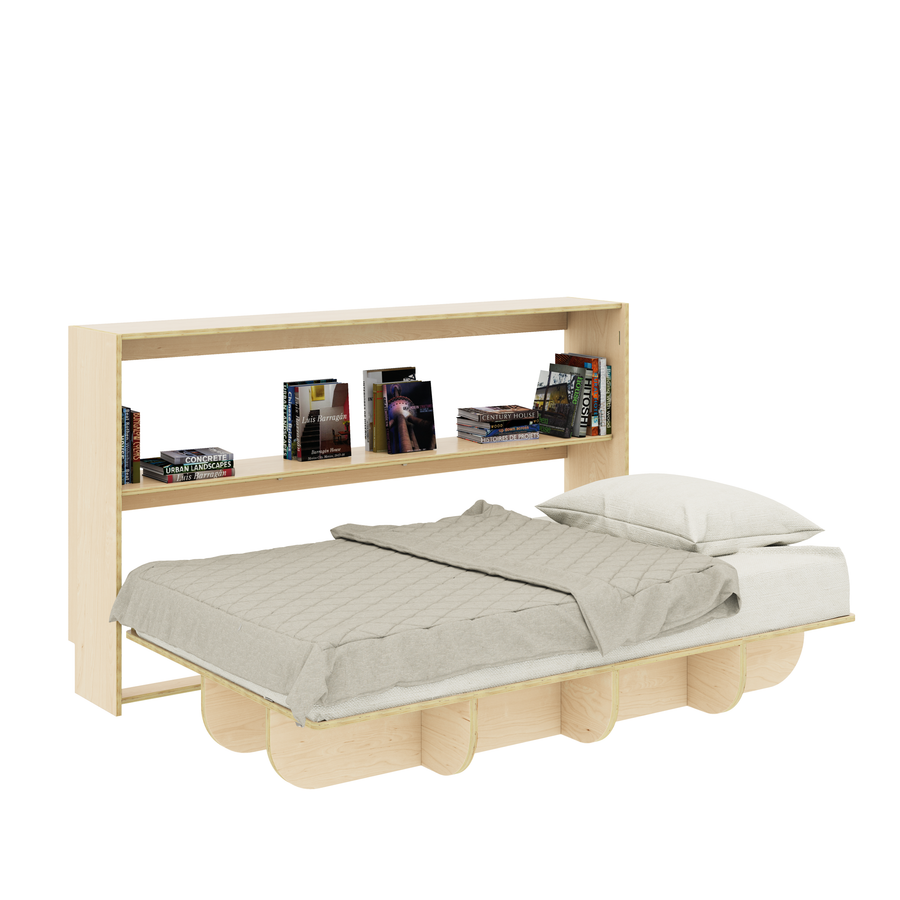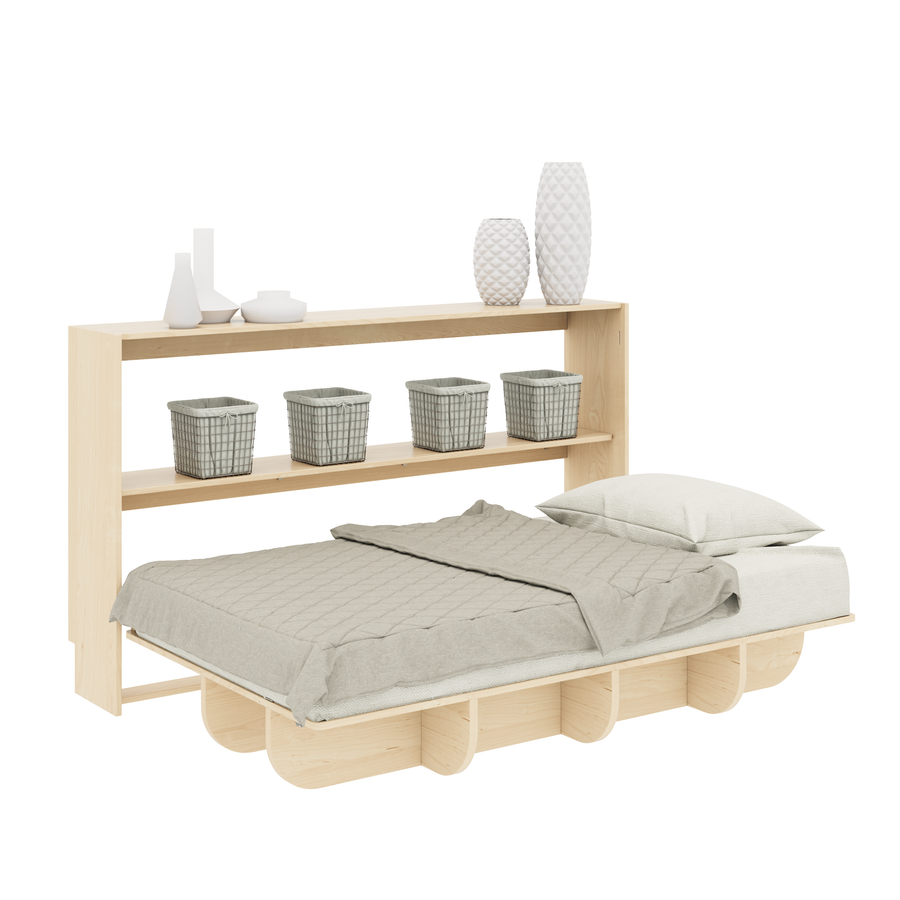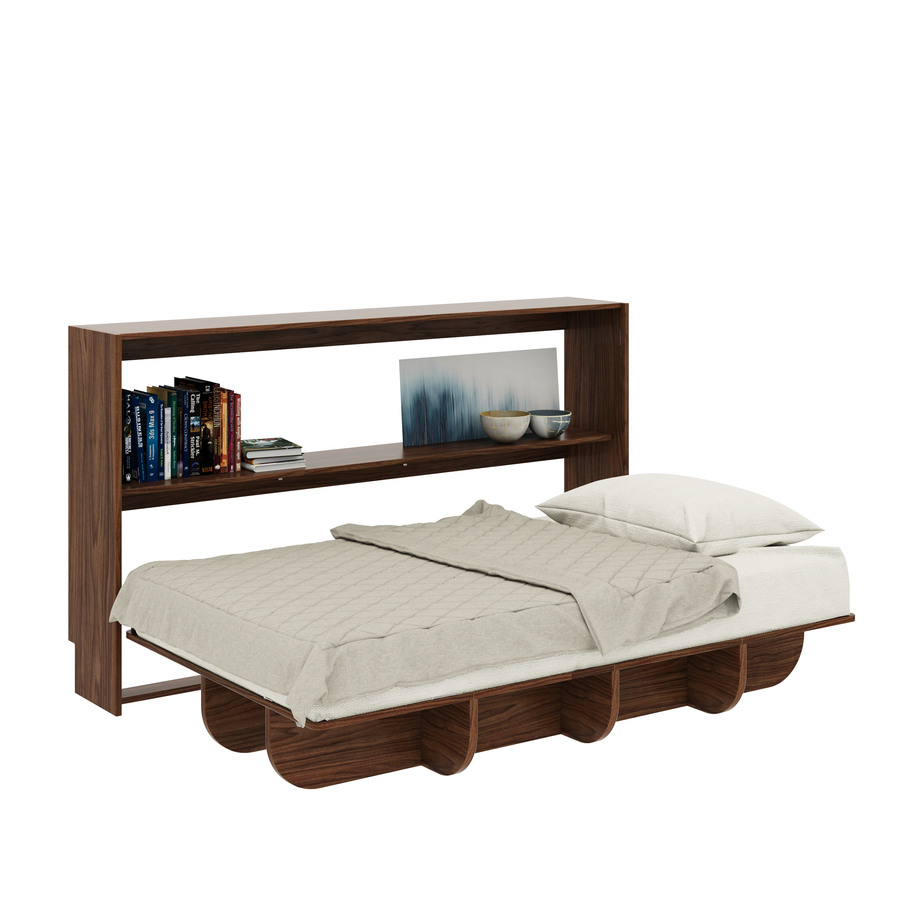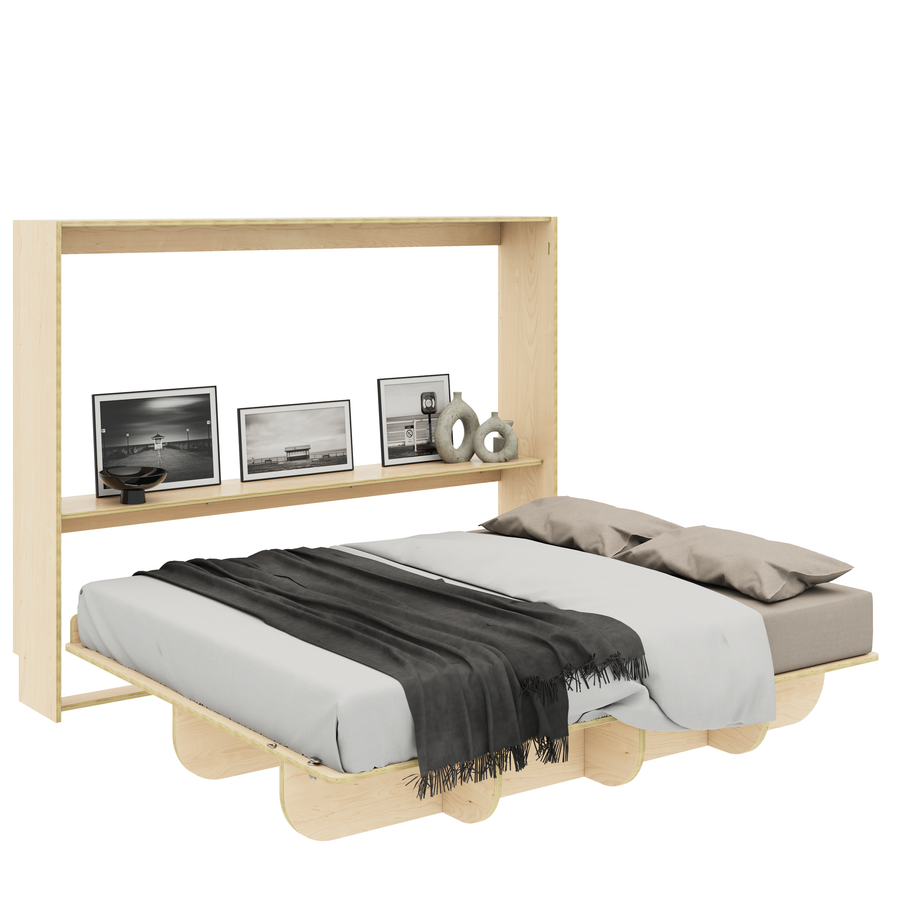 The Lori Bed
The Lori Bed helps you get more time with the people you love and more out of the place you call home. ​ ​ By offering real wood construction, 24/7 functionality, and an easy buying and assembly experience, the Lori Bed takes the snooze out of Murphy beds​.
QUALITY CONSTRUCTION
 — Built to last using cabinet-grade Poplar Plywood that provides an unparalleled combination of strength and durability, easily supporting up to 1,000 pounds.
FLEXIBLE FUNCTIONALITY
 — Fold-down headboard shelf and functional shelving when in the upright position allows you to get more use out of your space
RISKLESS PURCHASE
 — A friendly, 60-day money-back guarantee and lifetime warranty on all parts and hardware make the Lori Bed a no-brainer
SMOOTH AND PAINLESS ASSEMBLY
 – The bed can be assembled by 2 people in just a few hours and requires no special tools. Watch this video to see the assembly step-by-step
Unassisted design
100% lightweight poplar
Adjustable headboard
Functional shelving when the bed is in the upright position
A friendly, 60-day money back guarantee
A lifetime warranty on all parts and hardware
Smooth and painless assembly – all you'll need are a screwdriver, a mallet, a wrench, a stud finder, and a drill to ensure secure attachment of the cabinet to the wall
Fast, free shipping
2000+ Five Star reviews
As with anything that becomes a staple in your home, we recommend that you treat your Lori Bed with the care and respect it deserves.
Because the Lori Bed can be heavy for one person to lift alone, this is a good time to recommend enlisting the help of a partner. This is an appropriate precaution against accidental strain or injury, and will help ensure your Lori Bed continues to serve you and your family for years to come.
Find the perfect size for your space
Queen Vertical Murphy Bed
CLOSED
Height: 83", Width: 64", Depth: 23"
OPEN
Height: 10", Width: 64", Depth: 105", Lifting weight feels like: 44lb
  Queen Vertical
  Queen Horizontal
  Twin Vertical
  Twin Horizontal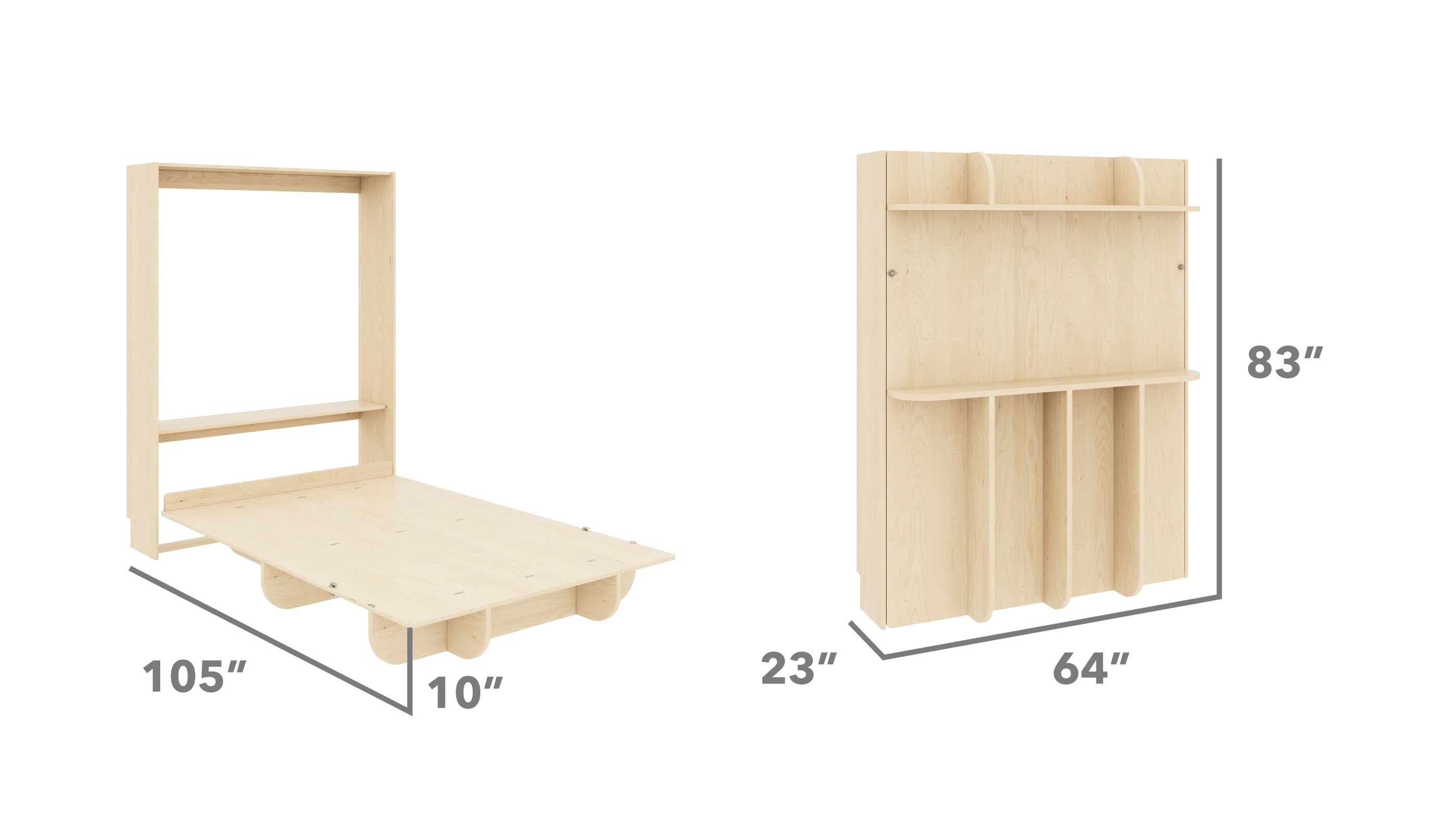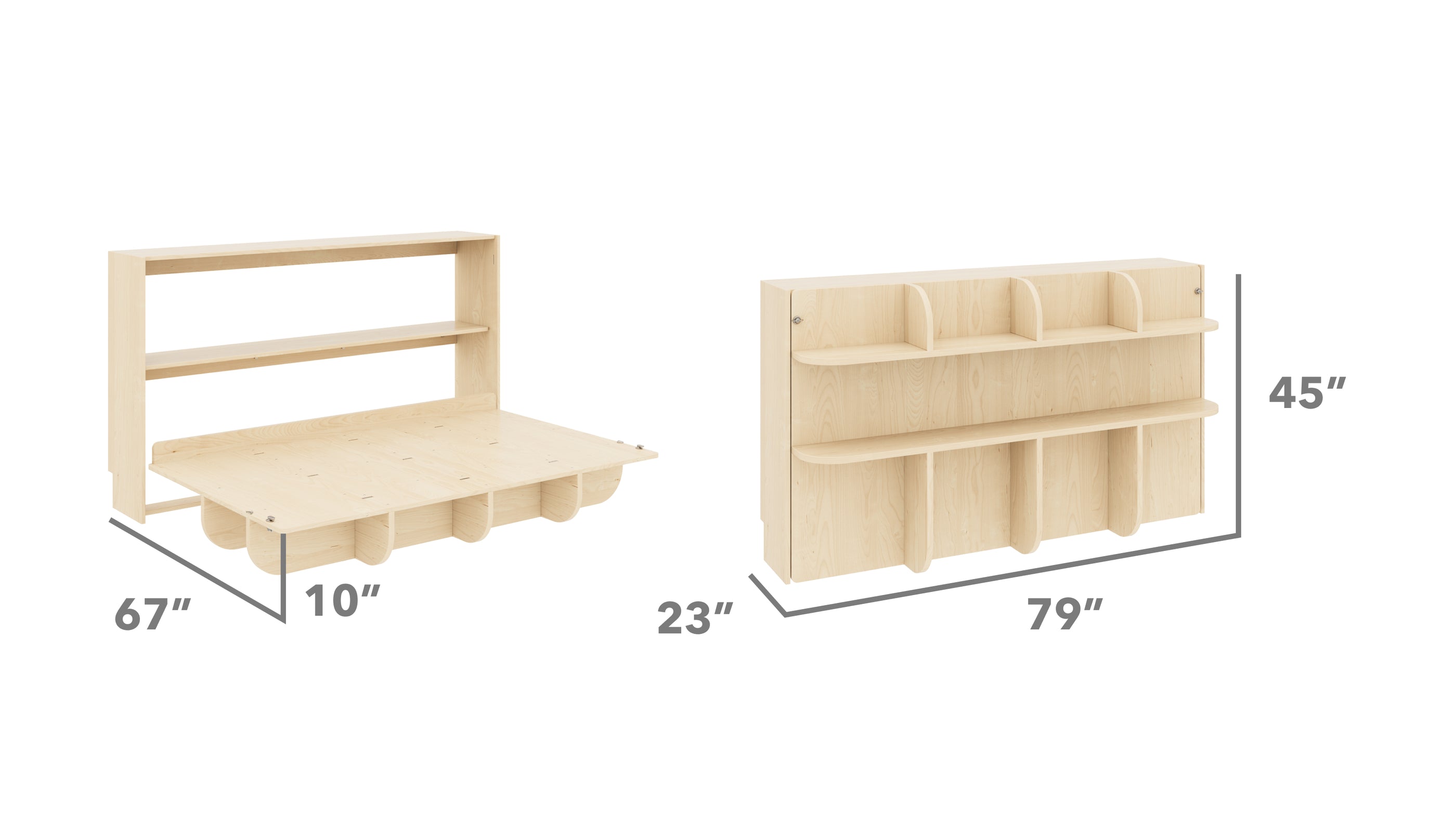 Beautiful finishes to match your taste
Paint-Ready Murphy Bed
Paint-Ready Lori Beds are made from 100% furniture-grade Poplar plywood. A canvas for personal expression, here is where assembly turns into making memories. Our Paint-Ready Lori Beds accommodate any color, or combination of colors, you can dream of.
A PRECAUTION:
On average, it takes our customers around 4-8 hours to sand and paint their Paint-Ready Lori Wall Bed, spread out over a few days to allow for drying time between coats. See examples of how our customers have styled their Lori Wall Bed.
  Paint-Ready
  White
  Natural Finish
  Walnut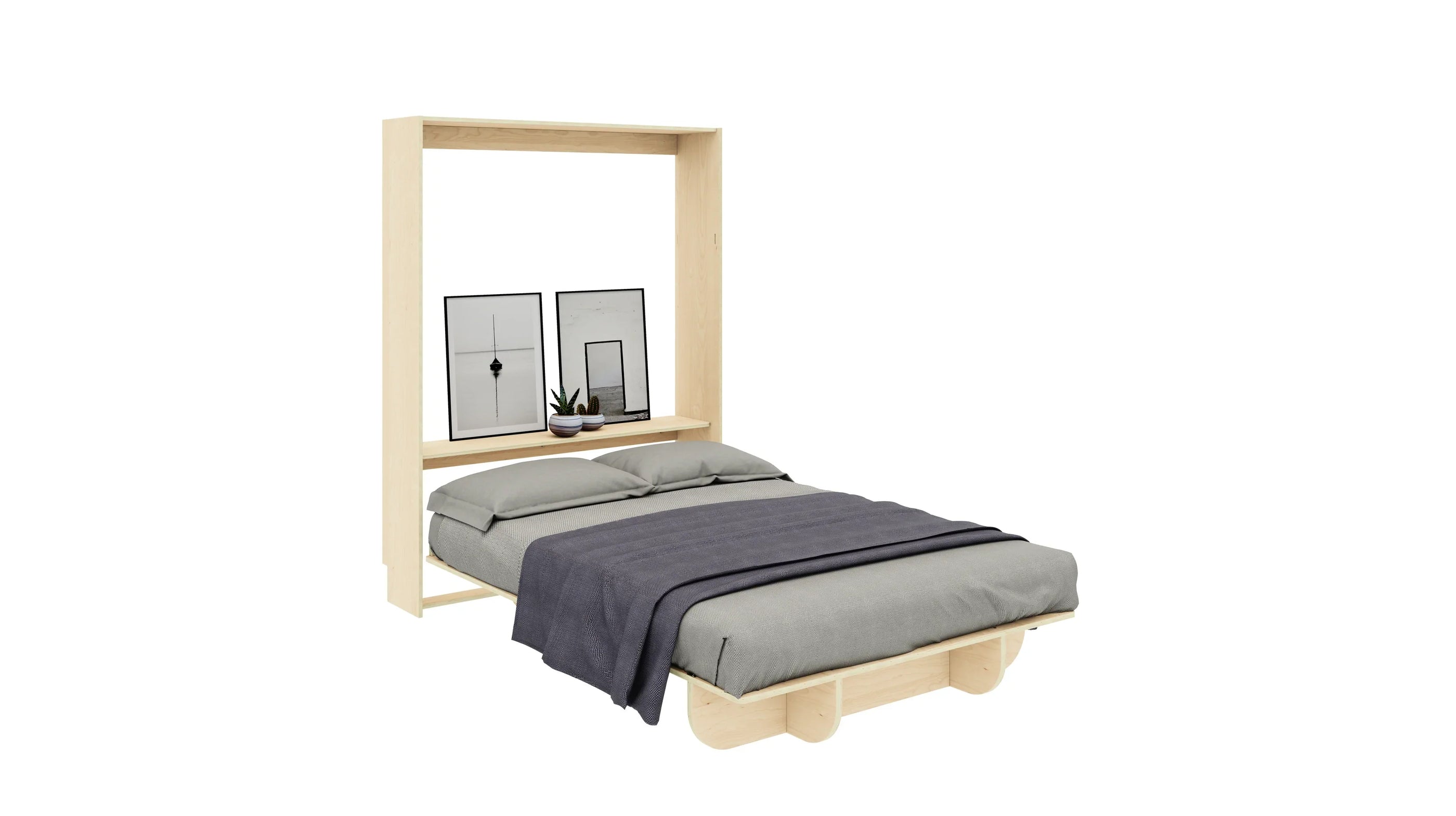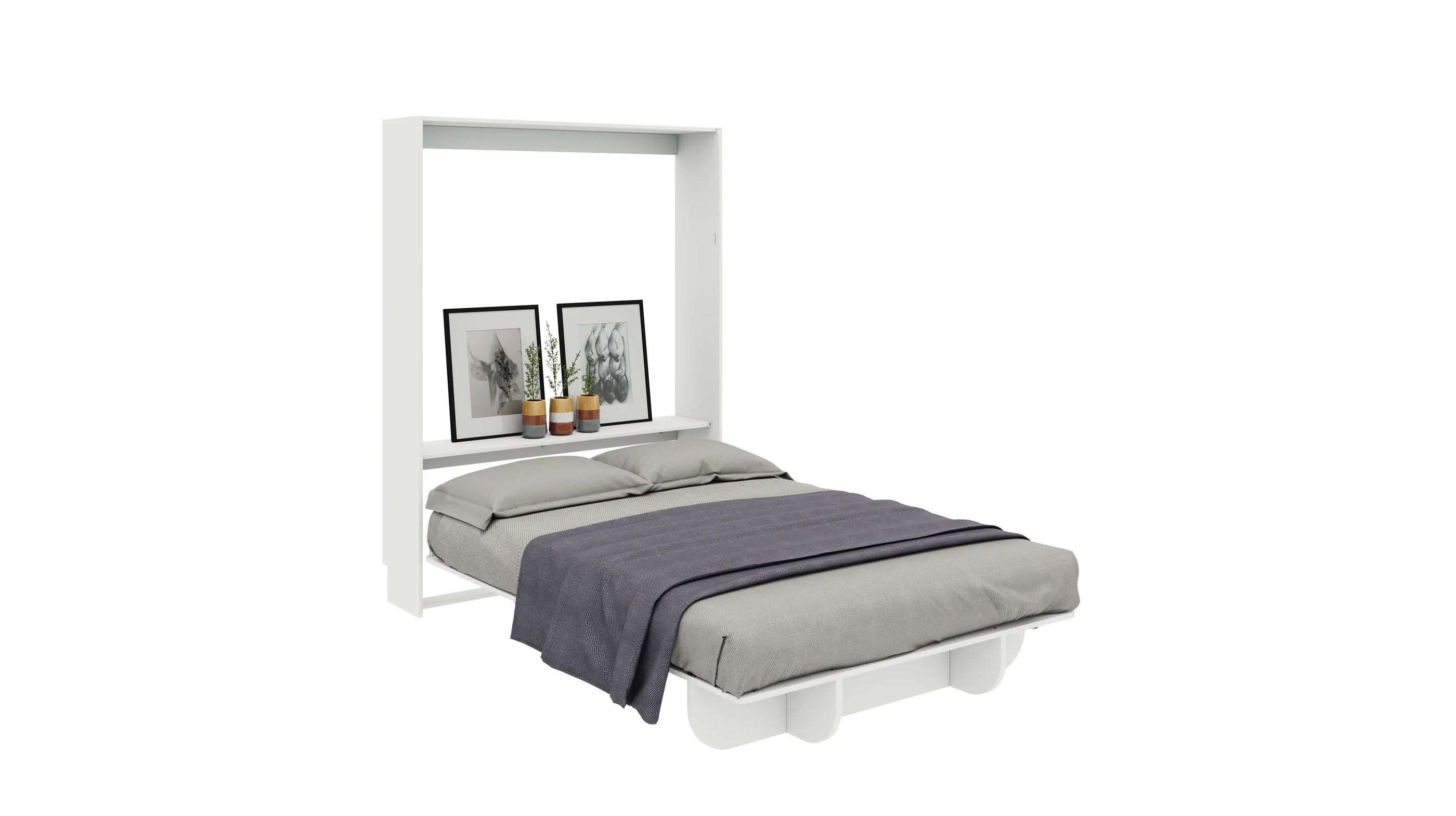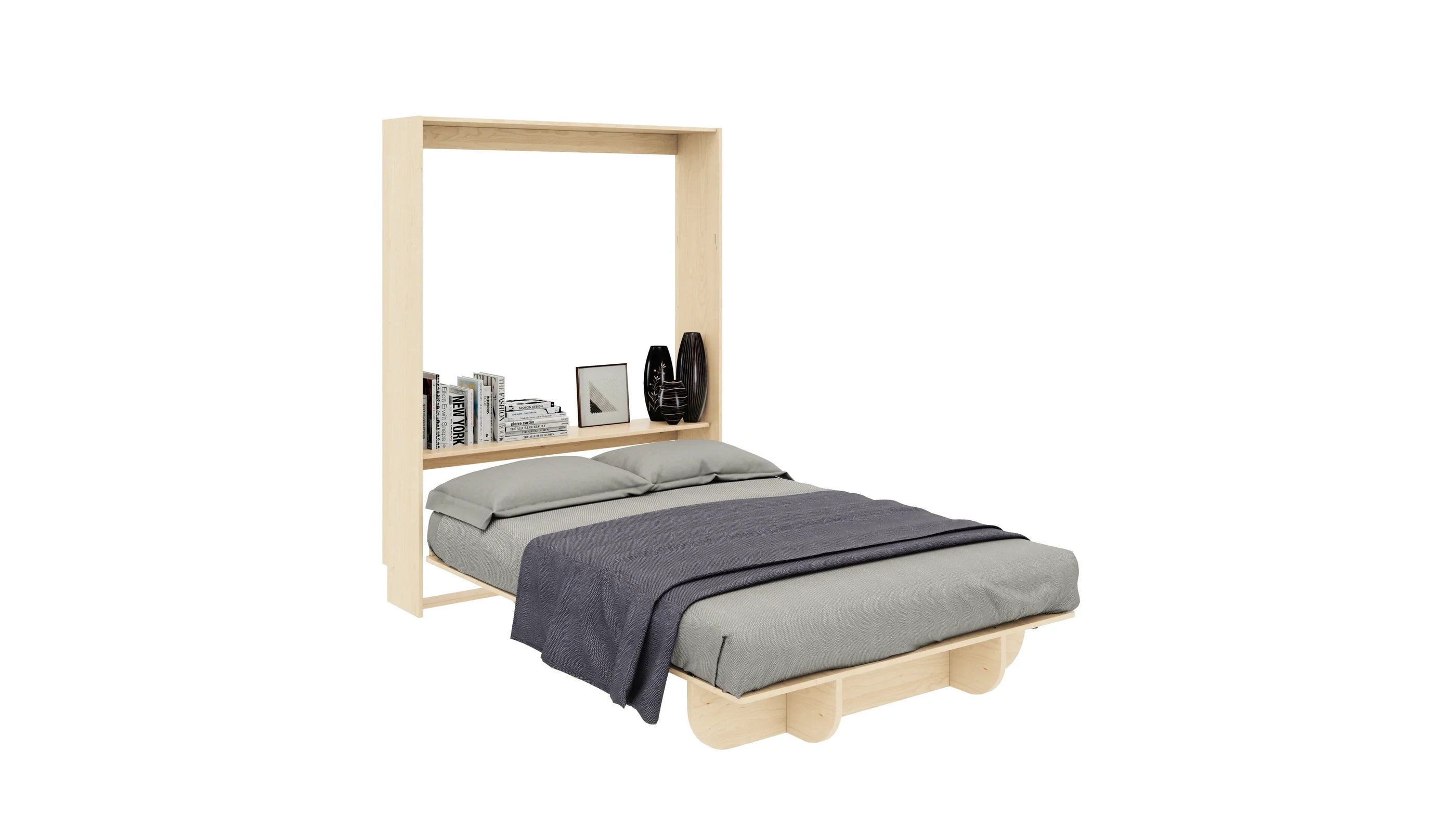 Murphy Beds for Home Office
Remote work is the new norm, but space is increasingly a precious commodity. Instead of a new home, with more rooms, our innovative Murphy Bed gives your home the flexibility it needs.
Murphy Beds for Studio Apartment
The original, time-tested use case of the Murphy Bed: a studio apartment doubled in size. Reclaim your floor space with the Lori Bed, and have shelves for your accessories.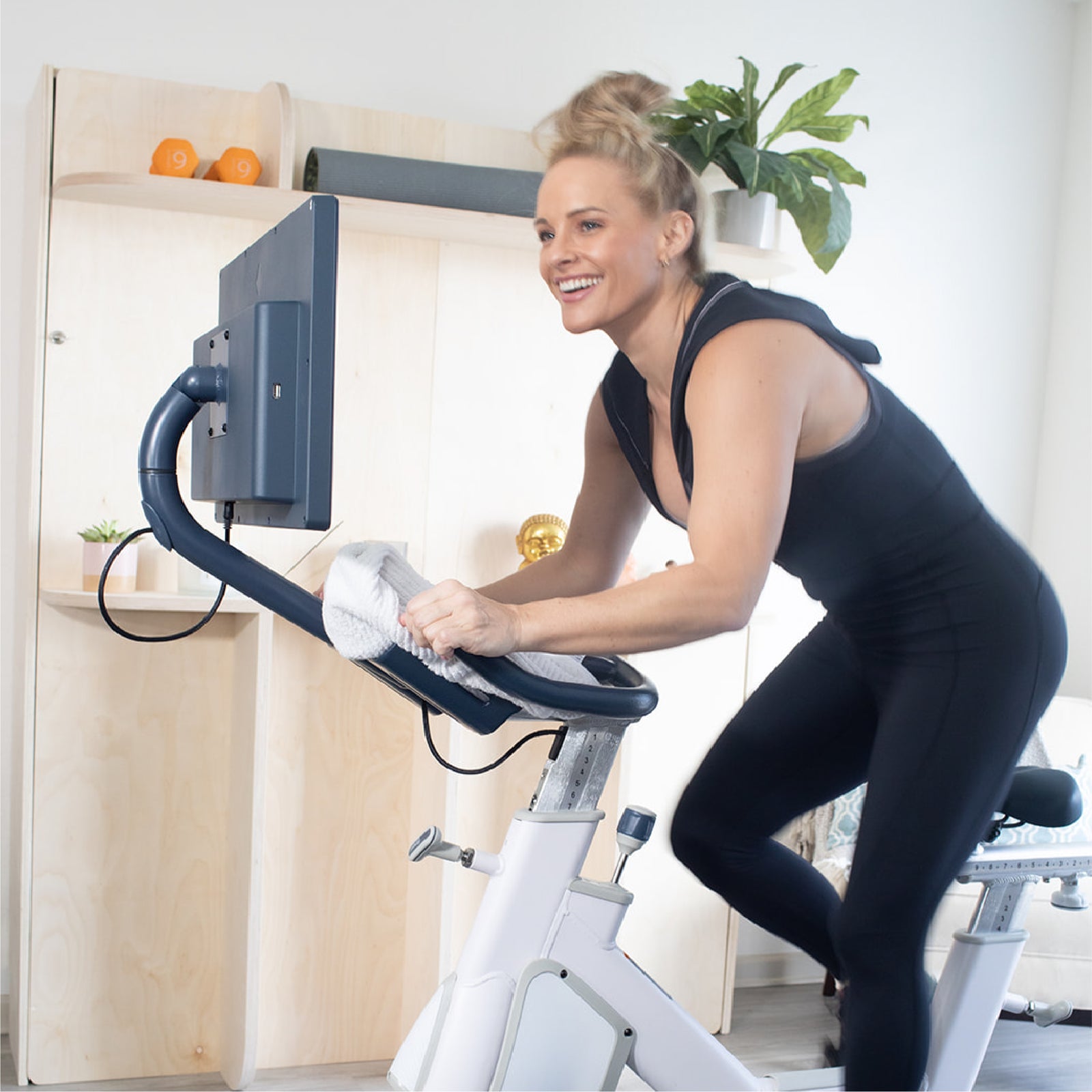 Murphy Beds for Home Gyms
Why pay to workout somewhere else when you can workout at home? Because there isn't enough space! Well, there is now.
Murphy Beds for Multifunctional Spaces
At its core, the Lori Bed has the unique power to transform one room into two, without compromising your overall vision for your space.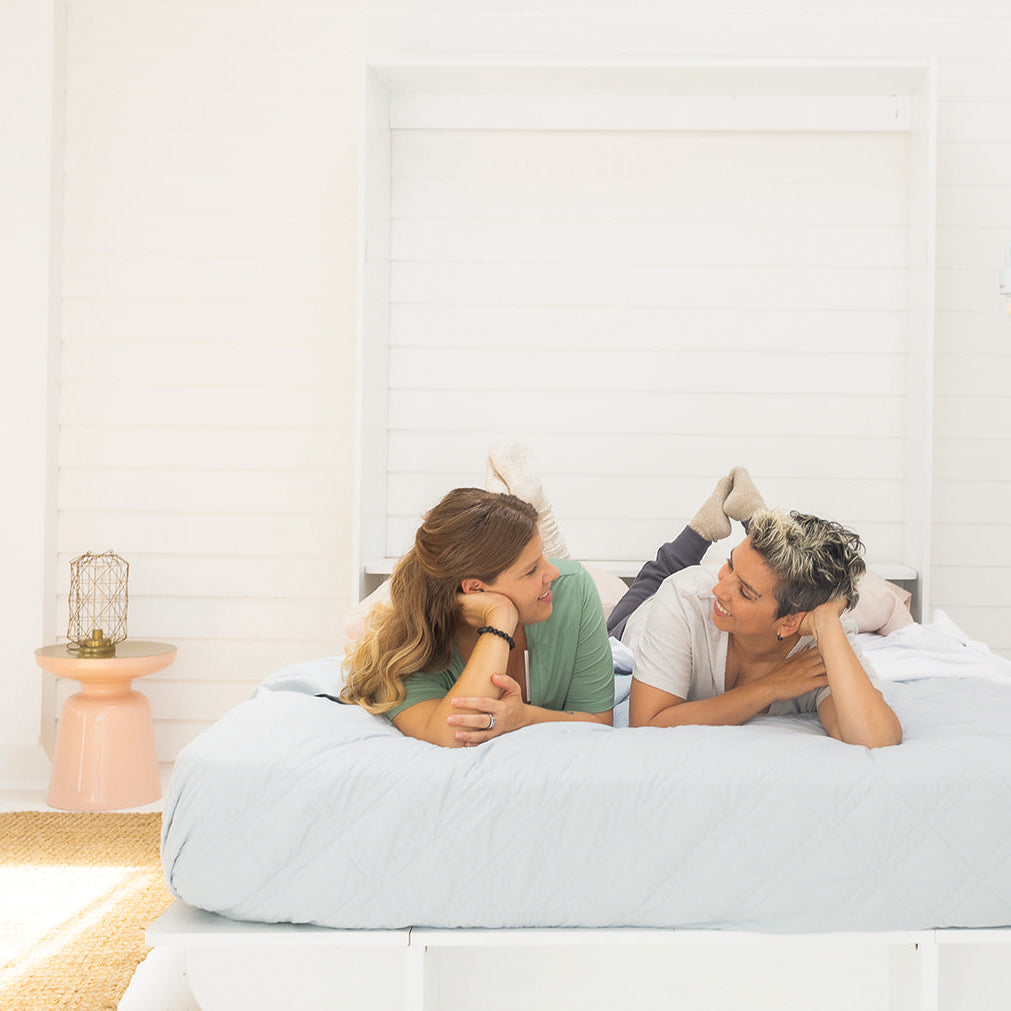 Murphy Beds for Guest Rooms
No longer do your guests have to sleep on a couch or air mattress – they'll be grateful for the Lori Bed, and you'll be grateful to have your space back when they leave.
What makes the Lori Bed so special?
Quality & Affordability
By designing the Lori Bed without a lifting mechanism, we were able to save our customers hundreds of dollars and build with 100% real wood, not cheap particle-board or MDF​.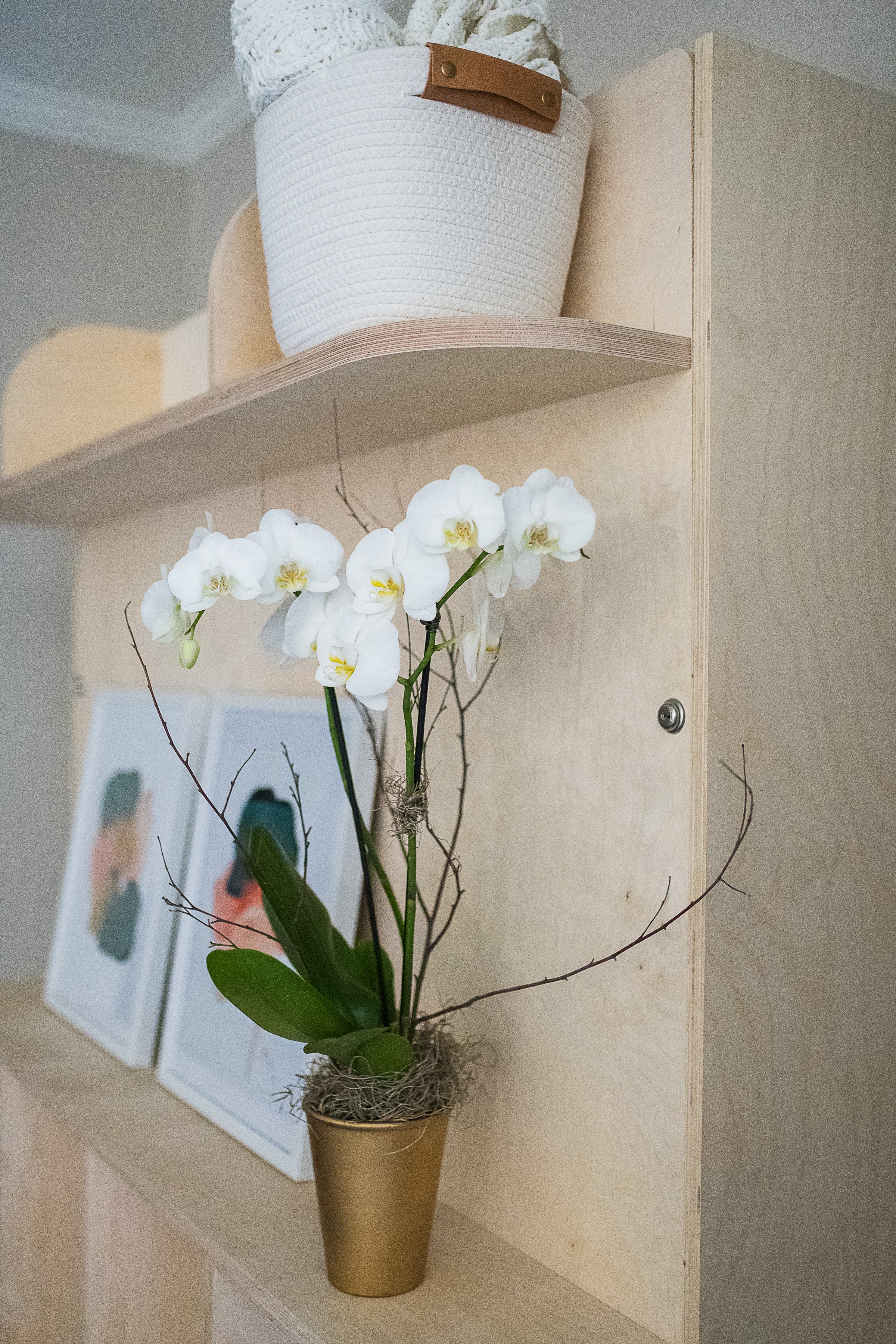 Integrated Shelves
When the bed is closed, decorate it to match your space.
Fold-down Headboard
The perfect place to put a bouquet of flowers, favorite book, or morning coffee​
Personalize your Lori Bed
How will you build your dream space? The possibilities are yours to discover.
Designed To Be Different
Part of what makes the Lori Bed special is its functionality and authenticity. Rather than looking like a fake wardrobe like other Murphy Beds, the Lori Bed boasts functional shelving when the bed is in the closed position, making it useful 24/7.​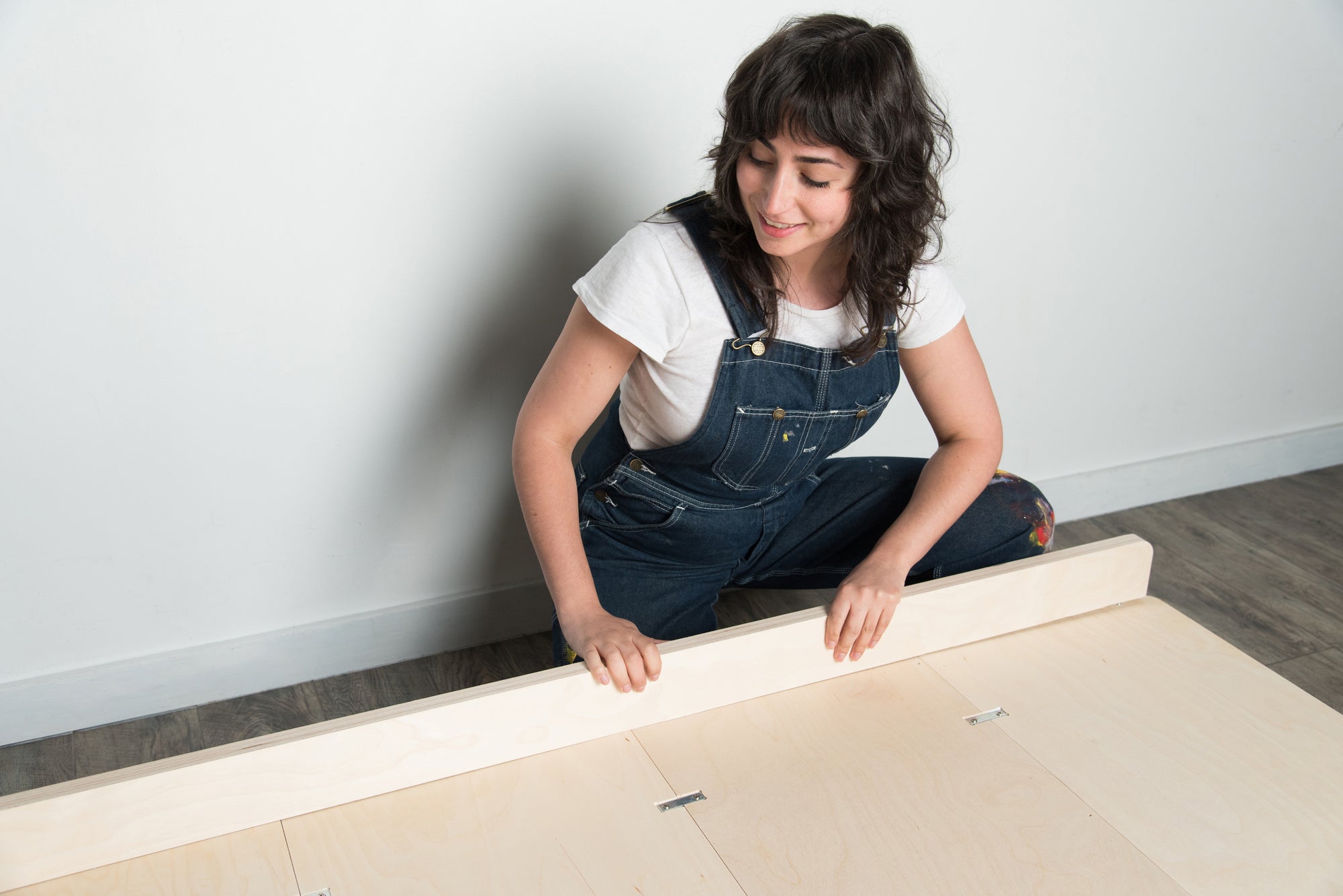 SIMPLE PROCESS, GREAT CUSTOMER EXPERIENCE
Fast & Easy
Rather than having a long, drawn-out lead time, our beds are on the shelves, ready for you via fast and free shipping. ​​Once your bed arrives, assembly takes just a few hours as you follow along with the included instructions and assembly video. Assembly with a partner can even be done in under an hour!​​
Should you run into any snags along the way, our friendly customer experience team is ready to help you via phone, email, or chat, 7-days a week​.
Transform your space in 3 easy steps
1
Buy the Lori Bed today
Simply choose the size, orientation, and finish to compliment your perfect multi-purpose space.
2
Fast delivery & assembly
3
Enjoy your dream space
Create a beautiful multi-purpose space that meets the functional needs of you and your family.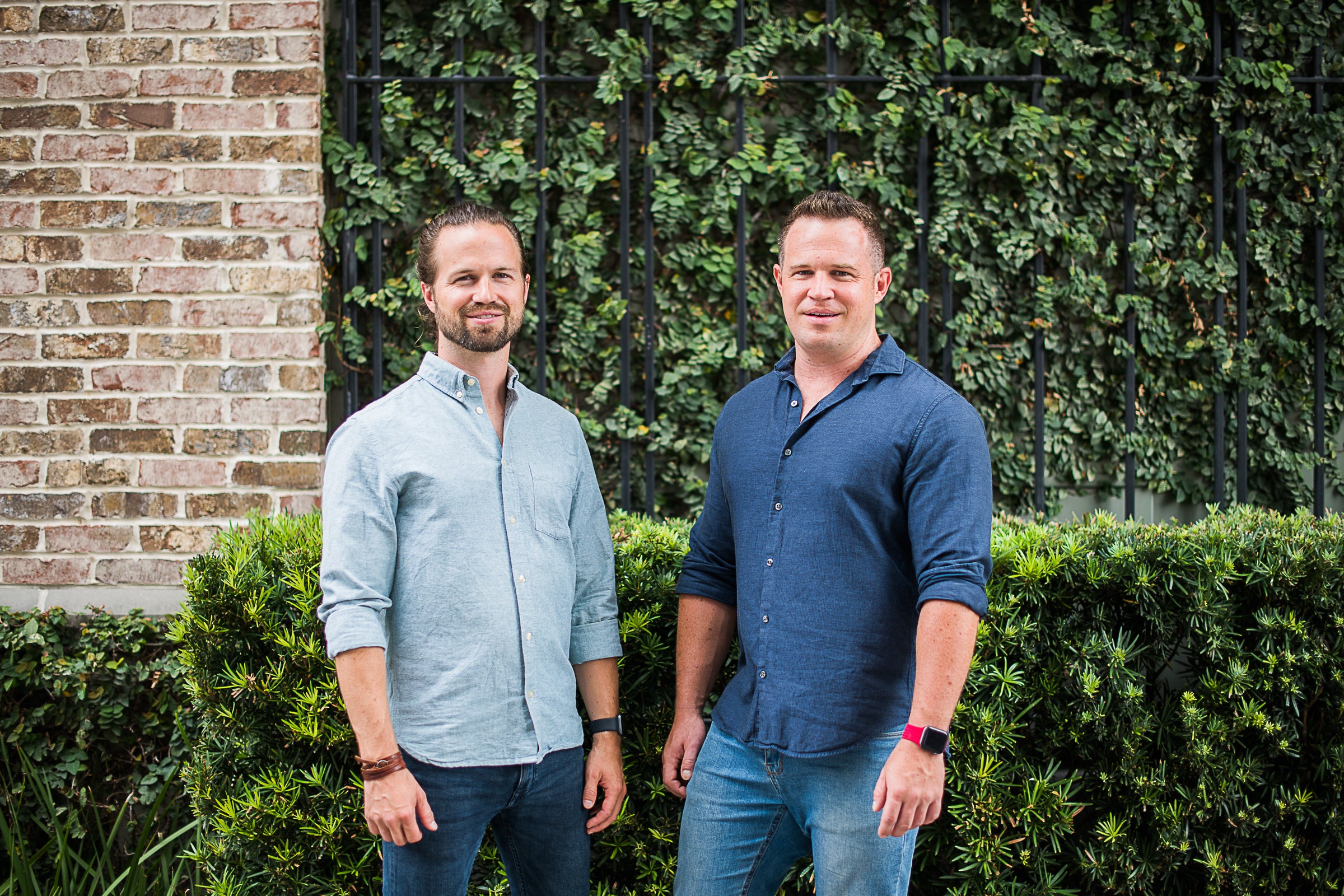 Family-owned and operated
Owned and operated by two brothers who left lucrative careers to pursue more meaningful work, Lori Beds is committed to helping make families stronger by providing the same great products they use in their homes.
We are on a mission to give back — through our collaboration with the Eden Project, every bed sold plants ten trees as we work toward our goal of planting 1,000 acres of forest, equivalent to NYC's Central Park.
We are the only Murphy Bed company on the market that has successfully eliminated the complex, cumbersome lifting mechanisms found in traditional Murphy Beds. The result is a lighter, smarter, safer, and more efficient product.
The Lori Bed simply "rolls" up and down along the rounded wooden rockers on the floor, which allows for seamless lifting and lowering of the mattress platform.
Most able-bodied people will be able to lift the queen Murphy bed on their own, especially if you've selected a lightweight mattress. If you have any concerns about lifting it safely, always lift with a partner. We strongly recommend against pregnant women and children operating the bed.
Full DIY assembly and wall-mount should take you between 1-2 hours. To complete assembly, you will only need a screwdriver, wrench, stud-finder, and a cordless drill to mount the Murphy bed cabinet to the wall.​
Our Unfinished Lori Beds are ready for your unique design and touch. An Paint-Ready bed comes ready to be painted at home and is the perfect option for those that want their Lori Bed to match a specific décor and don't mind a little extra work.

Painting your Paint-Ready Lori Bed is imperative to ensure that the wood is protected and will not warp overtime. It will take time -- about 4-8 hours with drying time included.

If you'd rather us do the work for you, we also offer a variety of fully finished Murphy bed options as well!
The Lori Mattress will provide the perfect combination of comfort, thickness, weight, and durability, and that will give you the best outcome possible.​​ However, you can use any mattress you'd like, keeping the following things in mind:​​
Maximum thickness of 12": Choose a mattress that is 12" thick or less to ensure it will close properly. ​​Go light with your mattress! Recommended maximum weight of 80lb for Queen and 50lb for Twin. Since you will manually operate this bed, keep in mind that even an extra 10-20lbs on your mattress can make a big difference in how heavy it will feel. The lighter the better!​​ Conventional inner spring and latex foam mattresses tend to work best for Lori Beds. Some edge support on the mattress can be helpful as well, to prevent sagging or deformation of the mattress over time.​​
Learn more about Lori Beds Shipping, Delivery, and Assembly
Here's what happens when you order a Lori Bed
What people are saying
Don't take our word for it, over 2,000 people have shared their experiences with the Lori Bed right here on our website. Get first-hand knowledge and feedback right from the source... our customers!
Total 5 star reviews: 2.1k
Total 4 star reviews: 211
Total 3 star reviews: 11
Total 2 star reviews: 3
Total 1 star reviews: 1
99%
would recommend this product
William G.

Verified Buyer

Benefits

Real Wood,

Great Value,

Beautiful Design,

Easy Assembly

23 hours ago

Benefits

Real Wood,

Great Value,

Beautiful Design,

Easy Assembly

My Bed

I have purchased other furniture pieces from other sites but they are not of the same quality as the Lori Bed. The veneered plywood pieces set this piece of furniture apart.

Lori D.

Verified Buyer

Benefits

Real Wood,

Great Value,

Beautiful Design,

Easy Assembly,

Fast & Free Shipping

3 days ago

Benefits

Real Wood,

Great Value,

Beautiful Design,

Easy Assembly,

Fast & Free Shipping

Perfect Fit

My husband and I assembled our Lori Bed and we love how perfect it fits and looks. The assembly and mounting to the wall took about 3 hours after we carried all the pieces up two flights of stairs in out three story town home. We are very pleased with the quality, looks and assembly (after we realized to follow the printed instructions vs the online video, the video assembly does not match how we received our parts). We recommend Lori Bed update their online video assembly instructions as it did cause a bit of confusion for us. But we are very happy with the finished product and would recommend!

David H.

Verified Buyer

Benefits

Fast & Free Shipping,

Beautiful Design,

Real Wood,

Great Value

4 days ago

Benefits

Fast & Free Shipping,

Beautiful Design,

Real Wood,

Great Value

Adding Barbara's quilting area to spare bedroom with Murphy

Very high quality plywood, fasteners made fit very square, and joints made tight, flush, and secure.

Look is very clean with support bases adding style to function. Also, high quality to wood finishes, should be durable and tough.

My son and I put it together in a little under 3 hours, we're both pretty handy and he put theirs together pre-COVID. Theirs still looks new.

An excellent value for styling, function, quality and value

Dave

Cheryl B.

Verified Buyer

Benefits

Real Wood,

Great Value,

Beautiful Design,

Fast & Free Shipping

5 days ago

Benefits

Real Wood,

Great Value,

Beautiful Design,

Fast & Free Shipping

Love our Lori bed

We love our Lori bed. Great quality and a great look!

Also appreciated prompt emails and willingness to switch what bed we chose.

Constance P.

Verified Buyer

Benefits

Real Wood,

Fast & Free Shipping,

Beautiful Design

5 days ago

Benefits

Real Wood,

Fast & Free Shipping,

Beautiful Design

Haven't put together yet

I'm looking forward to an excellent experience due to construction of this bed. Will follow up when it's put together.

Heather J.

Verified Buyer

Benefits

Real Wood,

Easy Assembly

1 week ago

Benefits

Real Wood,

Easy Assembly

Love doesn't begin to describe it

I love this bed so much, I am waiting for another sale so I can buy a second one for another room of my house. After having purchased a different Murphy bed, hours of blood, sweat, and tears putting it together, the dang thing broke and the store wouldn't accept the particle board piece of junk return. Fast forward one month to when I ordered the Lori Bed: my son and I had it installed in less than 2 hours and can I tell you: this thing is made to last, quality, and visually pleasing in my office/guest room.

If I could rate it more than 5 stars, I would.

Jamison V.

Verified Buyer

Benefits

Real Wood,

Easy Assembly,

Beautiful Design

1 week ago

Benefits

Real Wood,

Easy Assembly,

Beautiful Design

Exactly as expected

Seems to be great quality and saves us lots of valuable space. We put the bed up and down daily with no issues.

Patricia A.

Verified Buyer

Benefits

Real Wood,

Great Value,

Fast & Free Shipping

1 week ago

Benefits

Real Wood,

Great Value,

Fast & Free Shipping

Horizontal twin

It is well thought out and sturdy. No you tube for horizontal instructions but written worked. Just had to pay close inspection to them. Using it in my sewing room for extra sleeping space.
Reviews Loaded
Reviews Added
Space saving tips and more
Bedtime Reading