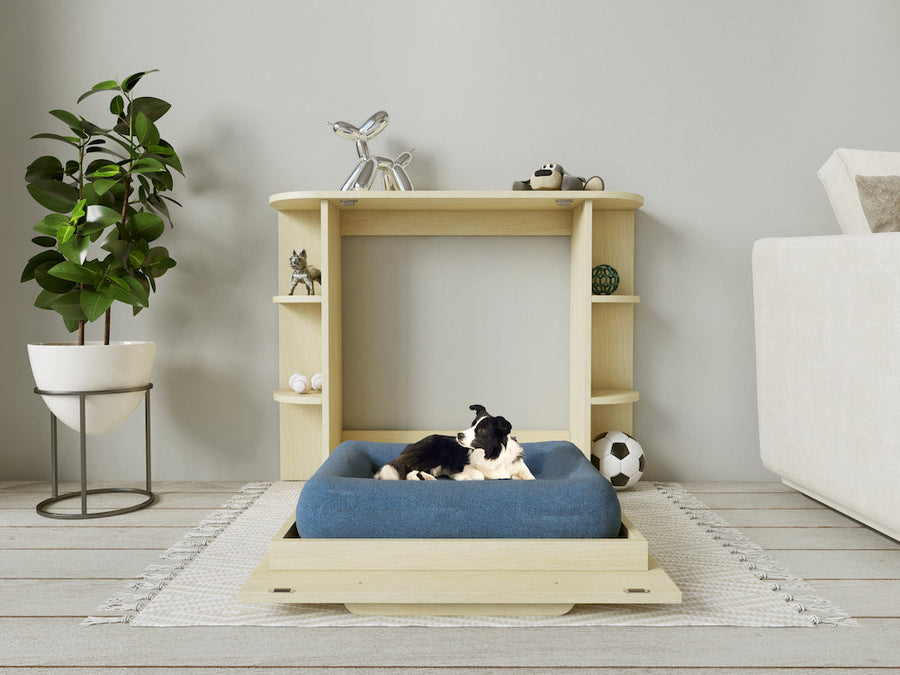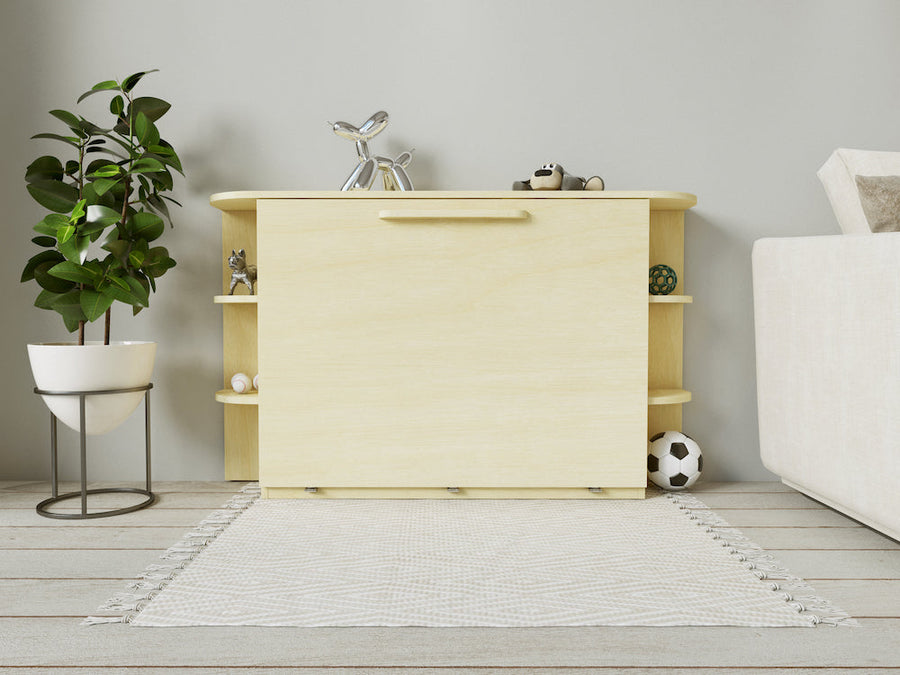 The Furphy Mattress
The first ever Murphy Bed for dogs
The first ever Murphy Bed for dogs made by a company that knows Murphy Beds. Finally, you can give your dog a comfortable space of her own, without compromising on your home's aesthetic. This three-in-one dog bed, side table, and shelving unit is a tribute to the special place your dog has in your family.
The Furphy Mattress works as part of the Furphy Bed system, but can also be used separately, wherever your dog wants to sleep! 
Dimensions:
Small: W 40.5" x D 10" (39.5" open) x H 31.5" Large: W 52.5" x D 10" (39.5" open) x H 31.5"
Weight limit:
The Furphy Bed is rated to 300lbs, strong enough for most dog breeds.
Size options:
Although all dogs are different, a general guideline for sizing is as follows:
Small: For dogs up to 30lbsLarge: For dogs up to 60lbs
Find the perfect size for your pooch
Small Furphy Bed
CLOSED
Height: 31.5", Width: 40.5", Depth: 10" (39.5" open)
OPEN
Height: 31.5", Width: 40.5", Depth: 39.5"
Healthy is Happy
The Furphy Mattress provides ergnomic support and is made with non-toxic, no VOC materials to ensure your pet's health is protected.
Built to Last
Designed with 100% real wood construction by murphy bed pros, the Furphy Bed will last a lifetime, just like your love for your pup.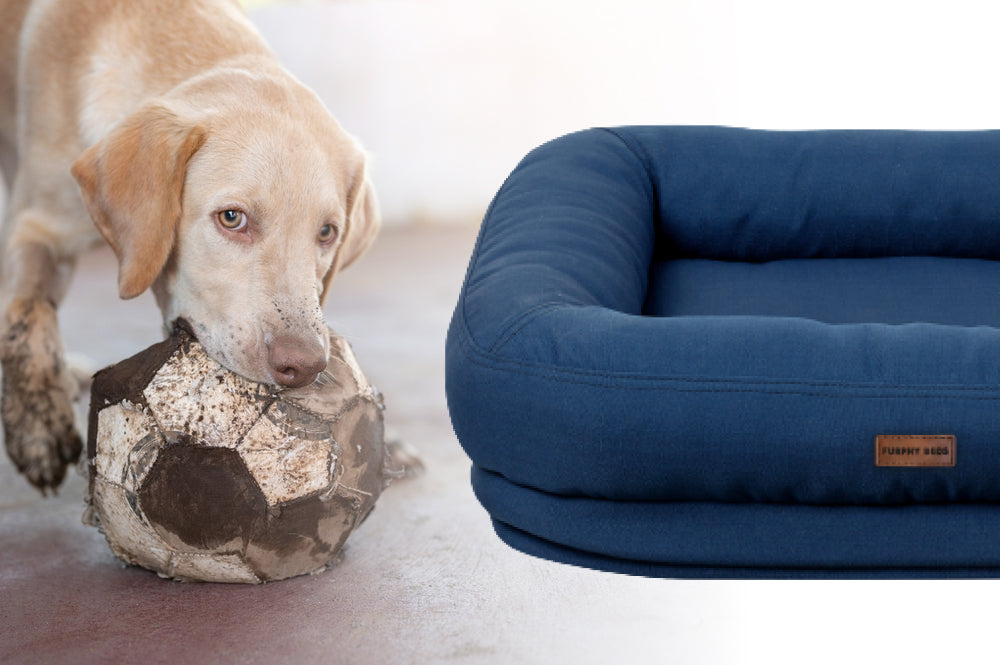 Brave the Elements
The Furphy Mattress is durable, washable, water resistant and built to withstand the unexpected.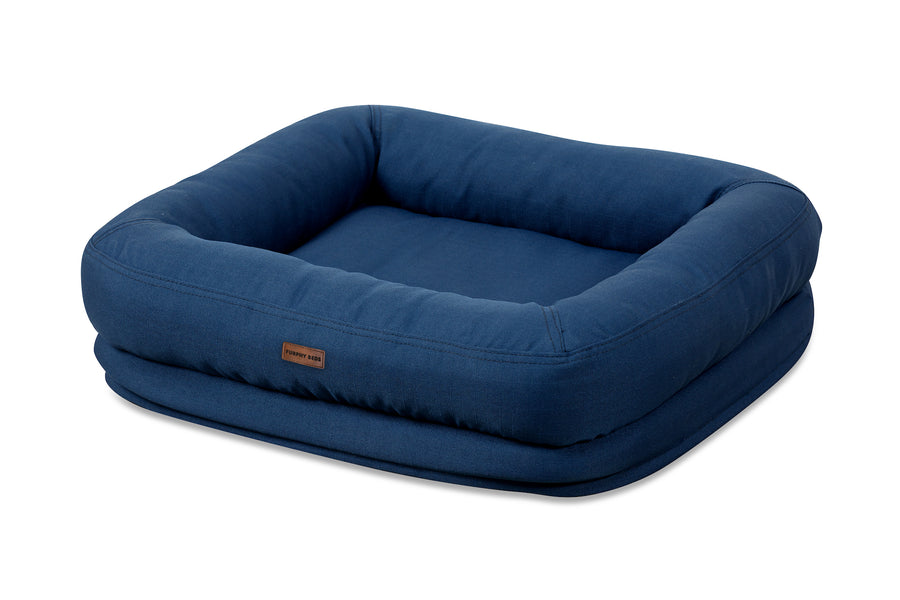 Take it anywhere
The Furphy Mattress is detachable, with a non-slip backer, making it work in any room or on the go.
Made for Murphy Beds
Normal mattresses aren't designed to be stored on their end in a Murphy bed. After awhile, they slump, sag, and fall apart. The Lori Hybrid mattress is the only bed designed from scratch to be stored on-end in a Murphy bed. By adding structural enhancements throughout the Lori Hybrid mattress, without sacrificing quality or comfort, we've created a long-lasting Murphy bed mattress you can invest in confidently.
Take Back your Space
While a necessity, dog beds take up space in your home and can feel like they're always in the way. The Furphy Bed allows you to put the bed away when needed, allowing you to optimize your space and reclaim your home's design aesthetic.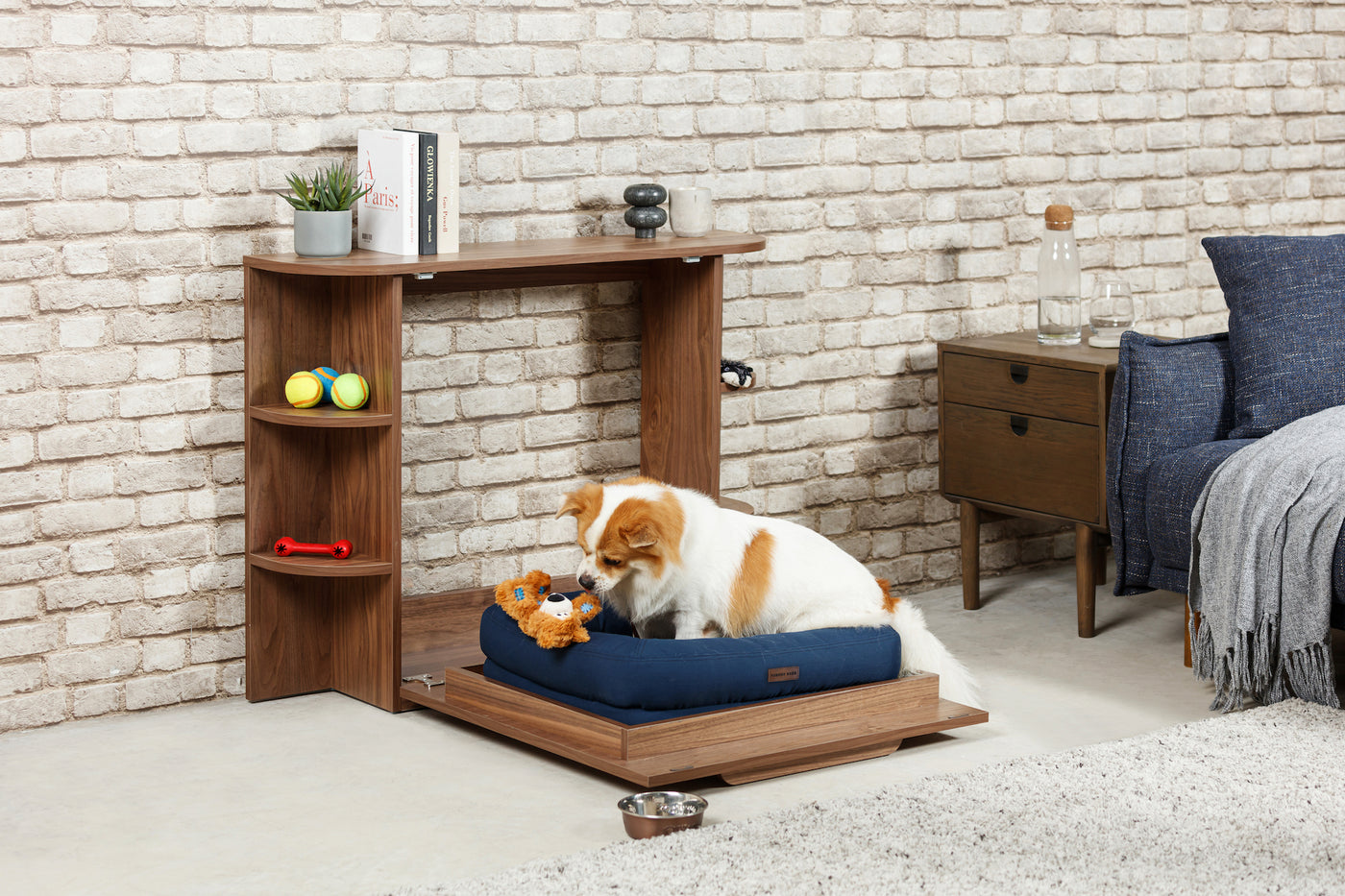 All Day Comfort
The Furphy mattress provides a luxurious blend of bolstered cushioning supported by a dense layer of memory foam, providing 24/7 spinal alignment and comfort.
Puppy HQ
Use the shelf caddies to organize your leashes, toys, and grooming tools. The Furphy bed is your new Pet Central.
A Love for the Wild
As a tribute to your dog's love for nature, we've partnered with the Eden Reforestation Project to plant ten trees for each Furphy Bed sold.
GET THE DETAILS
The Natural and Walnut Furphy Beds are constructed with hardwood plywood and real wood veneers. The White bed uses hardwood plywood and high-pressure laminate (HPL). 
The Natural and Walnut Furphy Beds have a UV cured, No-VOC clear coat. The White Furphy Bed has a High Pressure Laminate (HPL).   
The Furphy Bed can be wiped down with a damp rag and mild soap. Be sure to wipe dry and do not leave any standing water on the beds surfaces.
The Furphy Mattress Cover can be removed and washed. We suggest hand washing with a mild detergent, or machine wash cold and hang dry. Do not wash the foam inserts of the Furphy Mattress.
The Furphy Bed is rated to 300lbs, strong enough for most dog breeds.
The Furphy Bed must be attached to a wall. We provide drywall anchors in the hardware kit. If you have a brick, tile or other type of wall, we suggest you consult with your local hardware store to source anchors that are appropriate for your particular situation.
Given the design of the Furphy Bed there is no baseboard notch, but we do provide spacers that allow the bed to be installed in front of baseboard.
Space saving tips and more
Bedtime Reading